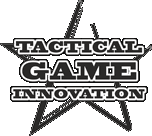 Since 2009, TAG-innovation has been developing and manufacturing equipment for Airsoft and combat simulation games. Their specialists have developed a range of unique pneumatic cartridges, launchable projectiles, and grenade launchers. Partnering with JSC "Murom Instrument-Making Plant" and utilizing modern CNC machinery, TAG-inn certifies and organizes a serial production of their entire airsoft and pyrotechnics range. 
In 2018, Gryphon Energetics became the exclusive importer and distributor of TAGinn airsoft and paintball pyrotechnics from Europe. Leveraging our core competencies as an explosives company, we are currently in the process of authorizing these unique and game-changing products for sale to the Canadian market.
If you are interested in becoming a dealer, click HERE.