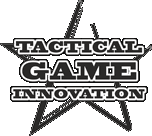 Since 2009, TAG-innovation has been developing and manufacturing equipment for Airsoft and combat simulation games. Their specialists have developed a range of unique pneumatic cartridges, launchable projectiles, and grenade launchers. Partnering with JSC "Murom Instrument-Making Plant" and utilizing modern CNC machinery, TAG-inn certifies and organizes a serial production of their entire airsoft and pyrotechnics range.
We have entered into a relationship with TAGinn to bring their pyrotechnic wargaming grenades to the Canadian market. All explosives in Canada must be authorized by the federal government before they can be imported, sold, or possessed. We are engaged with the Explosives Regulatory Division and various industry consultants to do exactly that.
Due to the nature of the products and the position of the ERD, achieving authorization is a lengthy challenge we are currently undertaking.
These products are not yet available for purchase in Canada.
We encourage our customers to follow us on social so they will be the first to know when we have more news.
We thank everyone for their continued patience and understanding while we work to bring this project to fruition.